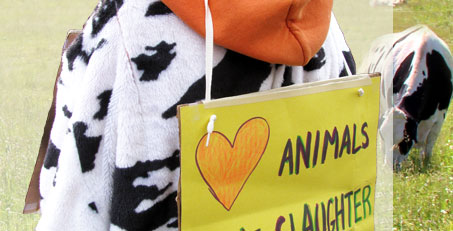 The Girl Who Loved Animals (and who is still alive and still loves animals!), is a 2013 documentary about a former homeless teen who educates people about veganism/animal rights.
"Once upon a time Kitty Jones dreamed of being a dairy farmer. However, after discovering the cruel reality of animal agriculture and job shadowing at a "local, organic, family" dairy farm, Kitty has realized that animals do not exist for humans to use and has dedicated her life to animal and environmental advocacy. A recent graduate of Shorecrest High School in Seattle, Kitty has been profiled on the blogs of Vegan Score, the ASPCA, Rainforest Action Network, and the Humane Society. She won the President's Volunteer Service Award for volunteering over 1,000 community service hours, and was the founder and president of her school's Animal Rights Club. Jones aims to teach people that animals are not ours to eat, wear, test on or abuse, and that in exploiting them, we are harming not only our own health but the environment. She is now studying Conservation and Resource Studies at UC Berkeley and will forever continue to promote a peaceful, cruelty-free, plant-based diet and vegan lifestyle.
In the fall of 2011, production went into this full length documentary film,
The Girl Who Loved Animals: Kitty Jones and the Fight For Animal Rights
which follows Kitty for almost a year as she advocates for animals at her high school, hands out leaflets at farmer's markets, volunteers at a cat neutering clinic, and spends time with all the different animals at the Precious Life Animal Sanctuary where abused and neglected animals have been given a safe haven to live out their lives. Additional footage for the film was also supplied by People for the Ethical Treatment of Animals and The Humane Society of the United States."
Check the film out if it comes to a theatre near you.
Here is the trailer:
The Girl Who Loved Animals